Welcome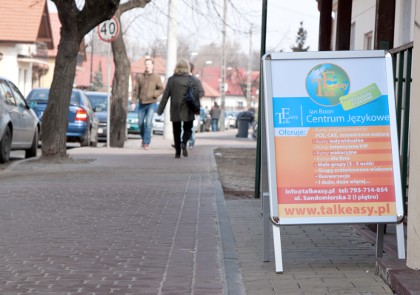 Talk Easy is an independent language training school that offers a "No Gimmicks" teaching approach, blending "Old School" techniques with "New School" flavours & ideology. The only "Native Speaker" language school in Tarnobrzeg, we are dedicated to providing genuine language practice in real life situations & not just vocabulary & grammar repeated & learnt by heart.
Combining methods such as the direct method (sometimes called the natural method), language immersion & the communicative approach we are confident in our ability to meet your expectations.
Offering a wide range of General English courses from beginner to advanced level (Common European Framework A1 - C2), we focus on core teaching principals & proven methods to maximize each individual students learning experience. Small groups (3-9 in each) ensure that each student is given all the attention & help they require while still enabling them to practice their new language skills with their teacher & classmates.
Located by "Red Square" Tarnobrzeg, our comfortable language-training center provides a convenient way of learning English for the beginner & advanced learner alike.
Lessons take place Monday to Friday from 6:30 – 22:00 and from 7:00 – 20:00 on Weekends.
To find out more about what we offer and how we can meet your training needs, please explore our website and/or contact us by phone or email.

Film Discussion Club